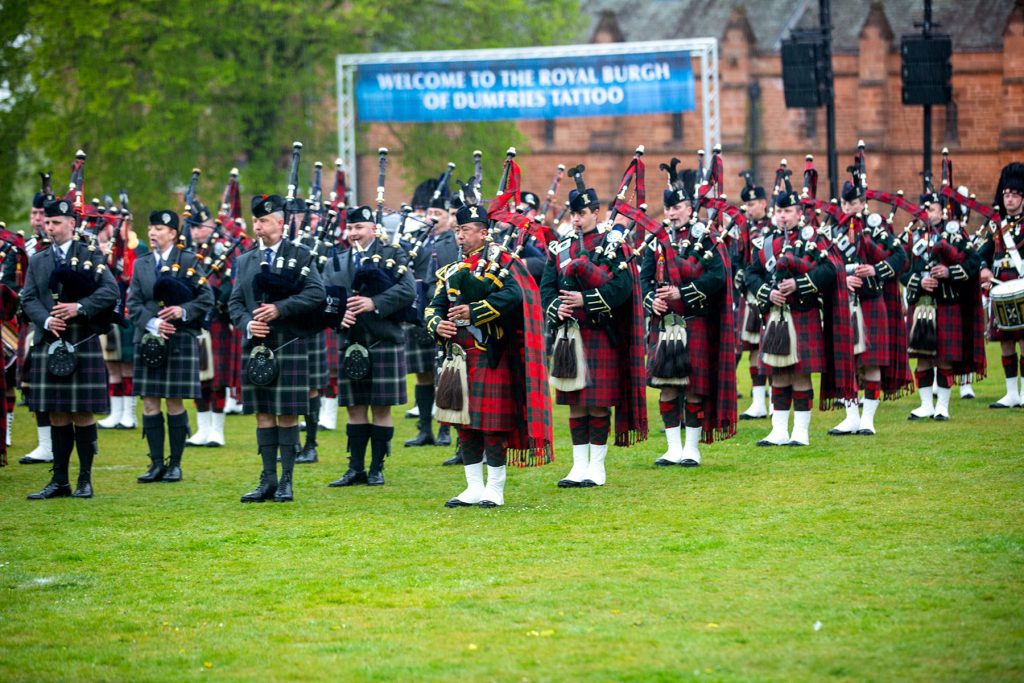 Today, the 22nd of February 2023, the Trustees of The Royal Burgh of Dumfries Tattoo made a significant announcement on the future of the charity.
In an announcement posted on social media, on behalf of the Board of Trustees, the charity confirmed its intention to wind up: and step back from producing the spectacle of the Dumfries Tattoo.
The announcement comes after renewed efforts to attract additional volunteers; trustees and members have proved unsuccessful – coupled with inflation driven cost increases, and funding bodies tightening their purse strings.
Founded in 2012, the Royal Burgh of Dumfries Tattoo has grown from a small community affair – to one of the South of Scotland's 'Must See' Events. Since it's inception the Tattoo has grown to become a significant event in the South of Scotland attracting thousands of visitors to the region from across the globe over the years – all while giving Young People from Dumfries and the surrounding region the opportunity to perform on stage alongside Nationally and Internationally acclaimed performers.
Dedicated to enhancing, promoting, and championing the vast talent in the South of Scotland has to offer – the Tattoo Team have taken pride in the strong community links it developed and nurtured over the years. Through the delivery of a Bi-Annual Tattoo Event, in addition to multiple other initiatives championed by the organisations Leadership Team, the Charity has delivered immense value to the local community.
Commenting on the news, Chairman of the Board, Stuart Robb said: "The Tattoo has been a hit with the community for many years, and we are incredibly proud of everything that has been achieved."
Performance Director, Gavin Gillon-Maxwell, who was part of the original team who set the event up in 2012 added: "over the years we have seen so many acclaimed professional performers grace the streets of Dumfries, seldom is such a display of Military Massed Pipes and Drums seen outside the Edinburgh Tattoo. My thanks go to all the performers who have worked with us over the years to build the spectacle of the Tattoo to the event that it is known, and loved for, today."
The last Dumfries Tattoo, in 2022, seen the prominent event move from Dumfries Town Centre to the backdrop of the Crichton Memorial Church – and seen, for the first time, a Ceilidh directly following the Tattoo performance.
Headline acts at the event included The Band of the Royal Regiment of Scotland; The Pipes and Drums of the Royal Corps of Signals; The British Army Band Catterick; The Pipes & Drums of the Royal Highland Fusiliers, 2nd Battalion The Royal Regiment of Scotland & The Police Scotland Federation Pipe Band.
These internationally acclaimed performers were ably accompanied by local groups showcasing their talents- including Dumfries Pipe Band & Louise Smith School of Highland Dancing
In the announcement on Social Media, the trustees paid tribute to the many volunteers who have been involved in the building of the charity: "The trustees would like to take this opportunity to pay tribute to those who have supported our cause; performed in our events; or aided in building the event to the spectacle it has become."