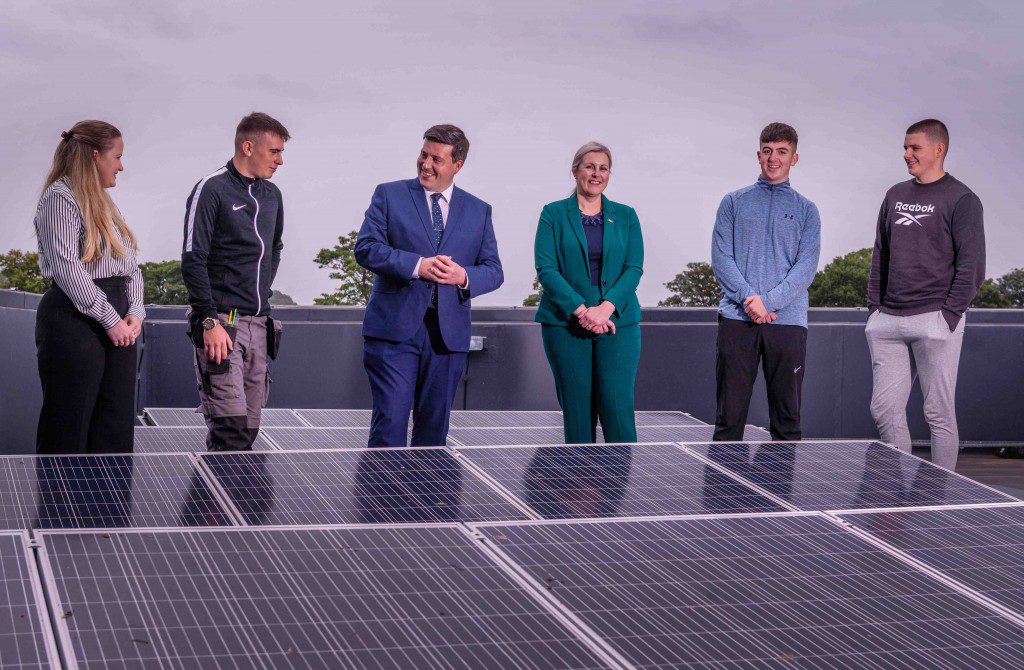 Minister for Further Education, Higher Education, and Science, Jamie Hepburn MSP, officially opened the Academy at an event also attended by Principal Joanna Campbell, members of the college board, Carron Flockhart, Unit Head of the Future Skills Strategy, and Chief Executive of Dumfries and Galloway Council, Gavin Stevenson.
Mr Hepburn met with the senior college team and was given a tour of the facility, which includes two green energy classrooms and the college's innovative and sector-leading digital care hub.
The Minister also took in the hydrogen vehicles, electro-hydraulic control, and electric vehicle charging point connection that the college is proud to have at its Dumfries Campus.
Several students involved with the Green Energy Skills Academy also met with Mr Hepburn to discuss what the Academy will do for them.
Principal Joanna Campbell gave a presentation outlining the Academy's ambition for the future and unveiled a commemorative plaque to mark the official launch.
The Minister was highly impressed by the new facility and congratulated Dumfries and Galloway College for its continued dedication to promoting a green future in the South of Scotland.
Under the leadership of Principal Joanna Campbell and her team, Dumfries and Galloway College has become a sector leader in green skills and energy, enjoying success at the prestigious Green Gown Awards, and is working hard to put its bright, positive, and dynamic vision for the future into practice.
Principal Joanna Campbell said:
"I was delighted to welcome to the Minister to our campus to launch our new Green Energy Skills Academy.

"With this in place, alongside our existing set of green energy and skills tools, we can go even further in our work of promoting a clean and green future in the South of Scotland.

"Our college is proud of the relationships that we have with stakeholders in government, business, the third sector, and our local community, all of whom are key to ensuring that our stunning part of the country remains so."
Minister for Higher and Further Education Jamie Hepburn said:
"The new Green Energy Skills Academy is a welcome addition to Dumfries and Galloway College's already excellent green energy and skills offer.

"It was a pleasure to see it first-hand and to meet with the management, staff, and students who will make this worthwhile project the success that it is bound to be.

"I look forward to working with the college to promote our environmental agenda for Scotland."